Dear Exhibitor,
We are pleased to send you the Complimentary Invitation Ticket as PDF file for attending as visitor OMC 2015 – 12th Offshore Mediterranean Conference and Exhibition.
In order to gain the most from exhibiting at OMC, we recommend that you send these ticket to your potential clients, customers and partners. On this ticket you will find a white & green box where you can add your company stamp, name or logo to let people know you are inviting them! Distribution of these invitations provides you with additional visibility and will increase attendance of visitors to your stand!
For your customers and clients, we remind that visiting OMC 2015 Exhibition is free of charge, attending the Conference requires a fee.
Visitors can register: upon arrival on site handling the attached Invitation Ticket, having filled in all fields filling in the online Visitor registration form and get immediately a pdf entrance badge , thus avoiding queuing onsite!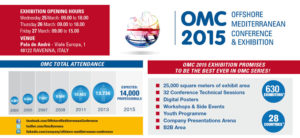 Please note that in this week we are also sending some printed Invitation Tickets to your office. We have used the contact details/address according to the stand booking. In case you do not receive anything by the end of next week, or if you need more tickets,  please contact exhibition@omc.it .
Please feel free to contact us for any further information or assistance.